G Linen World, A Luxury Clothing Brand
Welcome to G Linen World, a luxury clothing brand offers sustainable linen clothing that seamlessly fuse timeless fashion with contemporary trends. Based in Dubai, our designs are curated by the visionary founder Ghada Alshaikh, who is the driving force behind the design philosophy and the brand. However, all our items are made in Italy, a testament to our unwavering commitment to quality and authenticity. Through a strategic collaboration with esteemed Italian artisans, we transform the finest 100% pure Italian Linen into tangible pieces of artistry, each infused with the essence of comfort, and sustainability.

Read more about us
Sustainable Linen Clothing, Made in Italy and Based in Dubai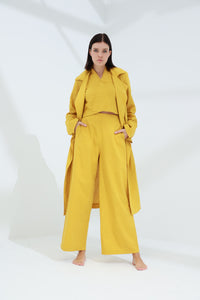 Linen Cardigan
Shop our new linen Cardigan
Shop Linen Blazer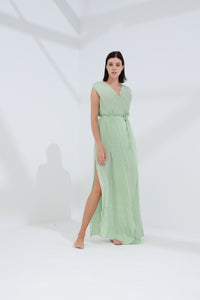 Ladies Linen Capes
Light, stylish and Flawless linen Capes
Shop Linen Capes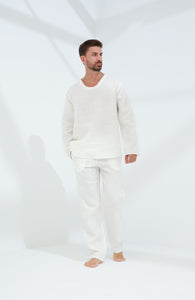 100% Linen Men Clothing
Shop our fashionable summer Men's Collection.
Shop Men
Shop Linen for Women And for Men
Each piece is a symphony of sophistication and comfort, making sustainability effortlessly chic. G Linen World stands as a symbol of refined luxury and sustainable ethos. Explore our collections and discover how we redefine Linen fashion, all while embracing the essence of modesty.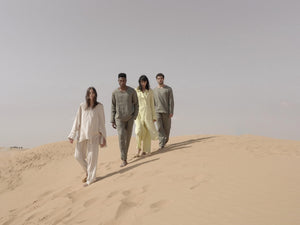 Shop The Latest & The Greatest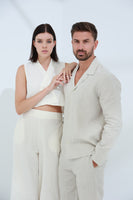 Why Linen Clothing?
Linen clothes are sustainable, light and comfortable.

The sheer comfort of Linen clothing designed to thrive in hot climates and elevate Summer fashion. On the other hand, the breathability of Linen clothes makes them an impeccable choice. However, it's not just about fashion; it's about health too. Embrace Linen's inherent benefits, which extend beyond style. From reducing clothes-based rashes like eczema to shielding against solar radiation, Linen emerges as a choice that truly cares.

Our collections of Linen Trousers, Jumpsuits, Dresses, and more are meticulously crafted, reflecting not just Luxury but also a deep respect for tradition and authenticity. G Linen World ushering in a unique sense of style that is both timelessly chic and sustainably aware.

Read more about the Linen Garment and how to take care of it.
Learn more about Linen Clothes
What our customers say about us
Amazing Cape and jumpsuit, so breezy and the quality is perfect , thank u

Lara G
Very very nice, really amazing and high quality pieces 

Aseela Al Majali
Thank you😍😍😍 I looooove it! It fits me perfectly and the material is wonderful 

Rana Jaber